Ramapo College Wins FLW Northern Conference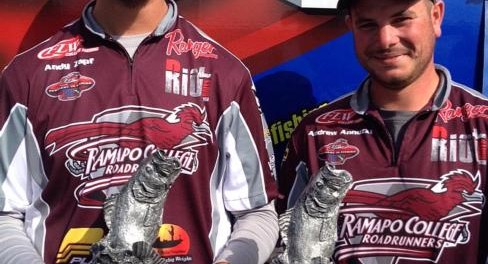 Riot Baits caught up with FLW Northern College Conference Champions, Ramapo College team members Andy Zapf and Andrew Annuzzi to discuss their recent win on the Upper Chesapeake Bay. Andy Zapf (20) is a senior accounting major while Andrew Annuzzi (23) is studying Environmental Science.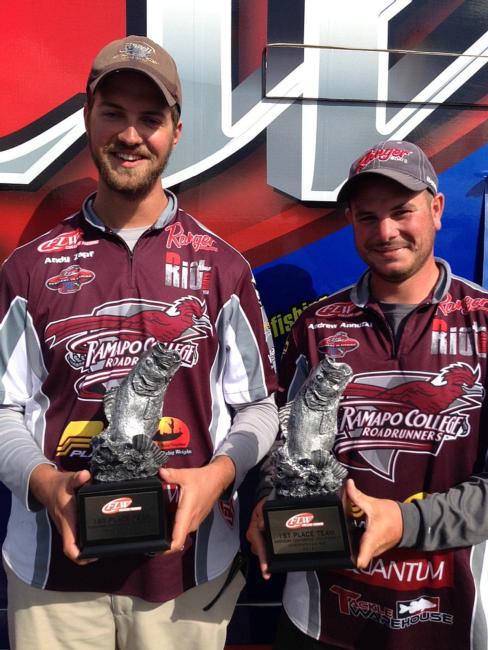 Dude! So all that practice paid off for you guys. Congrats! I saw some pictures online of some decent fish you caught prior to the tournament. Were you guys expecting The Flats to be that much of a grind?
Andy- After fishing the conference championship here two years ago during the same time of year I expected it to be as tough as it was then. I qualified for Nationals that year with only 7 pounds.
Andrew- I knew it would be a grinder. I was here two weeks earlier under the same conditions and it was tough. We knew we just had to stick to our plan.
So is the Upper Chesapeake aka The Flats an area you fish often?
Andrew – I fish the flats a couple times each year. This year I spent some more time knowing the conference championship was there. The time I spent on the water pre fishing was a huge part of our success.
Andy- I really like the Upper Chesapeake during the spring and early summer, but by mid summer, boat traffic keeps me off the water there.

Typically, people think of the a tidal body of water like The Flats to be a fishery where you can just go and power fish with jigs, squarebills, topwater and bladed jigs. What clued you in that you had to slow down rather than simply cover more water?
Andrew- Being from New Jersey we know how to slow down when we're fishing. After plenty of time on the water not getting bit power fishing we really started soaking our baits and hitting targets multiple times.
Andy- I agree with Andrew on this one. Additionally, I noticed a lot of people flipping big jigs and creature baits. I think a big key for us was down-sizing. These fish were heavily pressured and had probably seen 5 big jigs every day before we fished these docks.
It seems like you guys fish a lot. Do you guys party at all like typical college students, or is it all fishing? Wait! Maybe I should rephrase that…..Do you guys actually go to class and study, or do you spend all your time fishing?
Both- ha-ha, yes we do actually go to class and do all of our school work. When we have a day off of class and on the weekends we do hit the water but unless were excused from class for our college tournaments we are normally doing school work.
For those that don't know, Ramapo is in NJ which isn't exactly known as a state with great fishing. The lakes are small, heavily pressured and many of our bodies of water are polluted. That being the case, NJ has produced some great anglers like Mike Iaconelli, Adrian Avena and Pete Guszek. Ramapo College has a history of doing well on the college fishing tour too. Why do you think so many talented fishermen come out of NJ?
Andrew- With fishing being so tough in our state we have learned to slow down and take a closer look at what we are fishing. We have learned to fish hard and clean because you cant always expect a lot of bites.
Andy- Once you have the bug in you, it doesn't matter where you're from. We're into this just as much as the teams from Texas, Alabama, etc. The reason we're able to excel in a tournament like this one is that we're not expecting to go out and catch 20 pounds every day. We're used to tough fishing. That helps out so much halfway through a brutal day of fishing… We can keep our heads down and keep fishing when other teams might be losing focus.
Do either of you fish any other tournaments other than FLW's College Series? If so, which ones?
Andrew- I fish with Hooked Bassmasters, which is a local club. We travel to lakes such as Candlewood, Saratoga, Champlain and the Upper Chesapeake. I have also fished as a rider with the NJ Bass Nation. Once I am done with college fishing I hope to have some time to fish some BFLs and Bassmaster Opens.
Andy- For two years when I was in high school, I fished the ABA Weekend Series and the BFLs as a co-angler. Seeing how awesome the College Fishing series is, it wasn't worth it to continue fishing those (as long as I'm in college). I like to find a balance between tournament fishing and fun-fishing. After college I plan on fishing some BFLs as a boater and the occasional BASS Open as a co-angler.

Do you have a favorite body of water to fish (and why)?
Andrew- Champlain. I have been going there with family since I was 5. I just love the fact that you can catch solid limits of both largemouth and smallies any day of the week, and you can catch them almost anyway you want to.
Andy- Champlain is the only answer here… I've fished so many awesome lakes, especially in New York, and I consider myself a smallmouth guy. But nowhere in the world compares to the diversity of Lake Champlain. If you feel like catching smallmouth, you can win a tournament doing so. If you'd rather flip or fish a frog, you can do that too. And unlike other lakes, Champlain never goes through off-years . . . it's so consistent.
Now that you have one the division, you guys are heading to Nationals. Do you have a clue where Nationals will be held and do either of you have any history on that body of water?
Both- As of now all we know is that the Nationals will be held in late March or early April. FLW doesn't release the location until all of the Conference Championships are completed which is towards the end of October.
What will you do in an effort to prepare for that tournament?
Both- Once we figure out the location, if we have never been there before a lot of our preparation will be studying maps and looking into past results during that time of year. From there hopefully we will have enough practice time on the water to put together a solid pattern.
Well, we wish you guys continued success on your path to the Forrest Wood Cup. Congrats again on making it one step closer.